Assorted Greeting Cards
Happy Birthday and more
Sentiments are welcome in every situation. Share a moment with someone who needs an uplifting message. Cards are a great way to send happy thoughts, a supportive voice, a hug or just some love. This collection of greeting cards have been hand selected for the appropriate occasion. Check back for more designs soon!
---
Birthday Wishes
---
Everyone loves a great birthday card. The platform these are featured on is a great place to personalize your own cards using photo images or just text. Send one of my card designs or make a brand new one and pass that on to your birthday person.
---
---
Traditional Theme Holiday Cards
---
Whether you celebrate Christmas or another faith's holiday, the appropriate card always send warm greetings. Choose the design image or upload one of your own to pass along and share the holiday spirit.
---
---
WHIMSICAL CARDS
---
---
Thinking of You and peaceful Prose
---
It is always nice to receive a card from someone we care about when we are having hard times. These cards are a great way to share a hello, a hug, or some peaceful thoughts with a friend even if it is just to say hello and here's a hug. you are in my thoughts and prayers.
---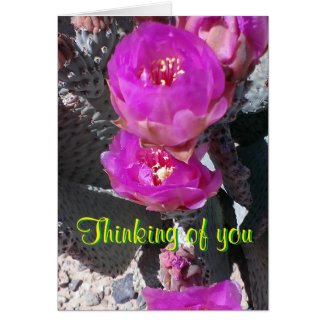 Beavertail Cactus Blossoms - Thinking of You Card
by
Lovely_America
Find more Beavertail Cards at
Zazzle
---
Sympathy cards
---
Sad times are the hardest to share words of hope and faith with a person so affected. When these moments arrive, as they do sometimes, share a moment of condolence and sympathy with one of these peaceful images. The prayers and sentiments shared here can help send a moment of warmth.
---
---
Condolences For Pet Owners
---
Losing a pet is like having a family member pass away and it affects the owner in similar fashion. I created the Animal Prayer recently when I lost my dog to old age. It breathes hope in the belief that our animal friend is in a better place.
---